A panty liner is used by women for hygiene purposes. It is placed on top of a woman's panties, in the gusset portion of the panty, and is used to absorb regular discharge, light menstruation, spotting during pregnancy, discharge from other activity and also for incontinence.
A panty liner size comes in different dimensions, usually depending on the manufacturer of the product. On the average however, this usually comes in dimensions of 3 inches in length by 2.25 inches in width by 0.5 inches thick.
There is also a thinner version of the regular panty liner, coming in at dimensions of 6.3 inches long, 1.97 inches wide and .039 inches thick.
Washable Cloth Panty Liners
There is another version of panty liners which are not disposable. These are washable cloth panty liners which are preferred by women who wish to save on monthly expenses for disposable panty liners as well as use a more environment-friendly product.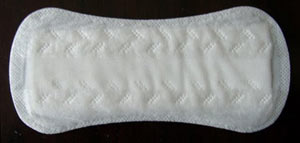 These washable cloth panty liners also come in different sizes with the small one approximately 20 centimeters long and the large one at 26 centimeters long. They come with a fastener that you wrap around the gusset to have it securely attached to the panties.
They likewise come in different materials and designs, from one hundred percent breathable cotton to cotton and polyester blend.
You can even carry these around in your purse since they come with their own zippered pack so you can have them handy wherever you go.
Organic Panty Liners
On the other hand, if you wish to go with the disposable variety of panty liners but are concerned about harmful chemicals that most commercial panty liners have, your best alternative is organic panty liners.
These are made from natural materials and do not contain any harmful chemicals such as bleaches and other synthetic ingredients.
These are ideal for women who have sensitive skin and are known to develop allergies from certain chemicals and components included in most commercial panty liners.
These are usually made from organically-grown cotton and are one hundred percent biodegradable so you won't have to worry about contributing to the garbage piling-up on the planet.
Whatever type of panty liner you decide on, you can readily purchase any one of the abovementioned panty liners right on the internet. If you wish to know more about cloth panty liners as well as the organic ones, you can likewise do a bit more research on the internet to help you decide which one is best for you.