A bra calculator can help you size-up your bra measurements and aid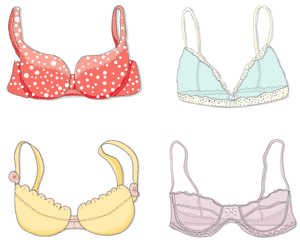 you in determining the size that is appropriate for you.
While a lot of women feel that they have no need for such a calculator since they are secure that the size they are getting is the right one for them, oftentimes, they are unaware that they are actually wearing the wrong size!
It would help to use a bra size calculator just to make sure that you are indeed wearing the appropriate size. If you are, then nothing would have been lost. If you're not, you will be thankful that you finally know the right size.
This will spell a huge difference between having to make do with a size that you've been accustomed to and wearing something that is actually more comfortable.
The right bra size provides the right support for your breasts, your shoulders and your back.
How a Bra Calculator Works
First, you need to find a bra size calculator and the best place to find one is one the internet. You will most likely find these in blogs dedicated to women's brassieres and lingerie; as well as online shops that sell the said items.
Before you begin to use the calculator, you first need to know two basic measurements: your bra band size and your cup size.
Your band size is measured through that part of your chest area just below your breasts. Your cup size is the measurement of the fullest part of your breasts. Simply wrap the tape measure from your back area up to the top of the nipples.
Now you need to put the values in the appropriate boxes and then the calculator will instantly display your recommended bra size.
Tip: When measuring your band size, it should be snug but not too tight. Make sure that you can insert two fingers through the band.
Finding Your Bra Size
Bra cups are determined by your breast size and corresponding letters, usually from A to JJ.
There are different sizing standards used in various countries or continents. It would help if you knew all the sizes in different standards so you can get the appropriate size no matter which part of the continent they were made from.
Basically, the United States and United Kingdom have similar bra sizes; starting from 30 inches all the way to 42 inches. The only difference is in the letters corresponding to cup size.
Where UK has an E cup, in the US this is equivalent to a triple D cup. Once you have determined your exact bra size, you can now fully enjoy the benefits of finally wearing the right bra size.